International Volunteer Travelers - Village Health Outreach Trip Details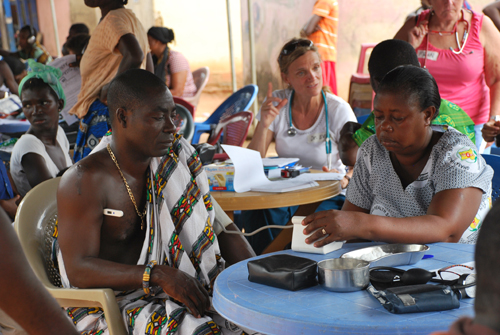 Come make a difference in the health of the people in the rural village of Okurase, Ghana West Africa. We welcome medical and non-medical professionals to work side-by-side with Ghanaian professionals to provide health care and education directly in the village. You do not have to be medically trained to participate. We invite all physicians, nurses, dentists, other health care professionals, students and anyone interested in supporting the work. Medical professionals in pharmacy, pediatrics, family medicine, dermatology, gastroenterology, and pulmonology are particularly needed, as the focus areas of this Village Health Outreach (VHO) are the education, prevention, assessment, diagnosis, and treatment of common disorders seen in the village including malaria, skin infections, GI and respiratory tract maladies, hypertension, pain management, eye infections, and wound care.
Stay and explore a bit of Ghana and attend the Nkabom World Music Festival with the "Explore Ghana Add On to the Village Health Outreach Trip". An Itinerary with the details is linked below.
A flyer and itineraries with additional information about the "Village Health Outreach Trip" and the "Explore Ghana Add On Trip" including costs are provided below. Let us know if you have any questions. If you would like to register, you can click on the "Register Now" button below. Be aware that you will need an electronic photo of your passport and payment information.